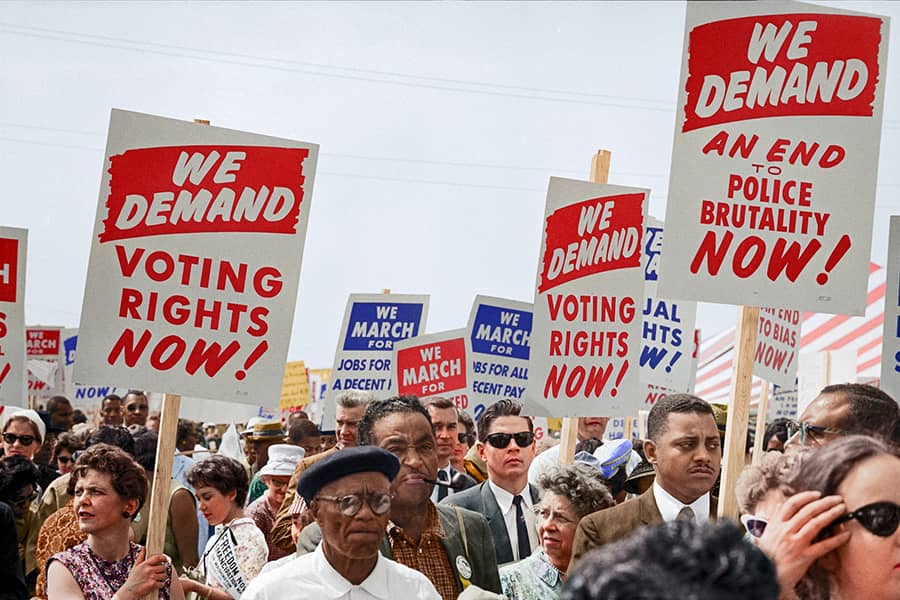 How to Celebrate Women's History Month with Gifts That Make a Difference
March 02, 2023
Women's History Month is a time to honor and recognize the accomplishments of all women throughout history. Celebrate this month with meaningful gifts that make a difference for the women in your life. Show support for organizations dedicated to celebrating, educating, and empowering women, or find thoughtful gifts that touch on important issues like health, safety, education, and equality. By gifting with purpose this Women's History Month, you can help advance the cause of inclusivity and equality for all women.
Support Women-Owned Businesses
March is Women's History Month, an annual celebration of women's contributions to history, culture, and society. During this special month, it is important to recognize the amazing accomplishments of women in various fields, past and present. One wonderful way to show your appreciation for inspiring women throughout history is to shop at women-owned businesses.
By supporting women-owned businesses, you are helping to foster economic empowerment for women, especially those from marginalized communities. Shopping at female-founded companies promotes a much-needed shift in the global economy, which has traditionally favored white men when it comes to achieving success in business. Supporting these entrepreneurs can make all the difference in giving more women of color, nonbinary people, and other underrepresented groups a place in the story.
One of the best things about shopping at a women-owned business is that you get to discover unique items crafted by talented artisans across the world. From jewelry to clothing, to books and home décor, there are endless options available. And, many of these businesses have specials or discounts going on throughout Women's History Month, making it the perfect time to find a special gift for the inspiring women in your life.
Supporting women-owned businesses during Women's History Month is more than just about buying products–it's about self-empowerment, recognizing the value of female experiences and making sure female voices and perspectives are included in the workplace, marketplace and beyond. So, when you look for something to celebrate the inspiring women in your life during Women's History Month, start with a trip to a female-owned business!
Encourage Gender Equality with Charitable Donations
When Women's History Month comes around each year, it is a time to recognize the achievements and contributions of women across all fields and professions. Celebrating this time of year with charitable donations can help encourage gender equality in the future. Charitable donations can help promote gender equity, improve access to resources, increase awareness about issues such as discrimination, and foster initiatives designed to help women in need.
Many organizations that focus on gender equality offer specific endowments around this time of year. Examples include donations made to organizations that use funds to provide educational opportunities and loans to empower women. They may also fund research into gender-specific health issues or support grassroots efforts that focus on empowering women's leadership. By donating to one of these causes, you can be sure that your contribution is going toward helping those who need it most — individuals and communities struggling under current gender disparities.
In addition to donating to organizations catering specifically to gender equality, there are many ways to give back in celebration of Women's History Month. Consider helping out in your local community by volunteering with a women's center, organizing donation drives to benefit homeless women and/or children, or providing support to domestic violence resources. You could also host events to raise money for a specific charity or sponsor an event focused on empowering women. Another idea is to make a special gift of recognition to female friends, family members, or colleagues to celebrate their accomplishments.
All of us can make a difference when it comes to gender equality by showing our support through charitable donations. Whether it's through traditional giving or alternative options such as community outreach, every contribution helps level the playing field. Donating to gender-specific missions this Women's History Month is an excellent way to foster gender diversity and champion the advocacy of women everywhere.
Celebrate Female Artists and Creatives
Celebrating Female Artists and Creatives has never been more important than during Women's History Month. This is the perfect time to recognize and highlight the incredible contributions that female creators have made throughout history and in the modern world. By showcasing their work – be it a painting, poem, song, film, sculpture, etc – we are helping to ensure that their legacy lives on for future generations to appreciate.
One wonderful way to celebrate female artists and creatives this Women's History Month is by purchasing and displaying their art or products. Whether it's art prints, original paintings, pottery, jewelry, clothing, books, or music, finding ways to support the career of your favorite female artist can make a big difference. Many female artists are struggling financially, making buying their work even more meaningful as it allows them to continue to create and share their talents with the world.
Additionally, celebrating women's creativity doesn't have to be purely transactional. Simply sharing the work of female artists you admire – be it on social media, by recommending their work to friends, or through word of mouth – can help spread awareness and appreciation of their talent. Seeing mainstream recognition of celebrity female creatives, like Lady Gaga, Beyonce, Ruth Bader Ginsburg, and Frida Kahlo, as well as recognizing local or lesser-known artists, has the power to make a huge positive impact.
Women's History Month is the perfect occasion to gift our family members, friends, colleagues, and other loved ones something special from a female artist or creative. Supporting women's businesses doesn't always have to break the bank either; many creatives offer digital products, services, and experiences.
This Women's History Month, let's come together and Celebrate Female Artists and Creatives in all their forms!
Host a Virtual Girl's Night In
As we gear up for Women's History Month, many of us are looking to connect in ways that may not be feasible in person – but that doesn't make celebrating Women's History Month any less special! To commemorate this wonderful occasion, you can plan and host an online Girl's Night In, with potentially limitless choices for how to celebrate the month and the amazing women who have contributed to our history.
First, you want to pick a day, and time and plan the virtual guest list. You may opt to simply invite those from your contacts, or try involving people in a wider circle of friends and family by setting up a social media event page. A great way to start out a Girl's Night In is by having guests share a gift they have given or received in honor of women during Women's History Month.
Once your Guest List is established, you can create an agenda so the event runs smoothly. For example, you can ask everyone to come prepared with their favorite song by a female artist followed by playing games over video conference platforms like Zoom, where participants challenge one another with questions on female pioneers. Youtube can also provide an easy and fun excuse to get the party started with a "Just Dance" session to a mix of tracks composed by prolific and emerging female musicians. Women's History Month provides an ideal opportunity to showcase and put a spotlight on some of the innovative, exciting, and inspiring female musicians from around the globe – from indie to pop and rock – so each guest is sure to find a song that speaks to them.
The night should also include brainstorming sessions, in which guests discuss the challenges and struggle women still experience today. Hosts are encouraged to offer resources, such as websites and articles, focused on inspiring positive change, confronting injustice, and providing support for the betterment of women and girls all across the world.
Hosting an online Girl's Night In takes little more than a few clicks, and will certainly leave you and your fellow attendees feeling empowered, emerged, and ready to keep celebrating Women's History Month throughout the rest of the year.
Identify Women's History Month Events in Your Community
March is Women's History Month, a time to honor the contributions of inspiring women throughout our history. All across the country, communities are hosting exciting events and activities to commit to this celebration of achievement, strength, and courage. From art talks to book launches, here's what you can expect from Women's History Month events in your area.
One event to check out is a local women's art show featuring works by multiple female artists. The show offers an opportunity to get creative and explore themes like sisterhood and inclusivity while connecting with a wider community. It also provides a space to discuss art within a feminist context and experience the work of talented artists.
In addition to the art show, many areas are hosting talk series centered around feminism and the achievements of prominent girls and women. These events feature experts speaking on subjects such as gender equality and representation, racial justice, and other issues related to women's history. They often include lively discussion and collaboration for viewers to take home.
If music is more your speed, look for concert events honoring Women's History Month. Many feature female vocalists and celebrities that make use of their platform to spread awareness and education about women's rights and social justice movements.
Book clubs are another way to celebrate, offering exclusive reads that explore stories about powerful women in all different mediums. You can also attend theater productions and film screenings dedicated to the same cause. These events often include panel discussions and viewer commentaries afterward.
Finally, don't forget to pick up a meaningful gift or two to commemorate Women's History Month! Whether it's a t-shirt, mug, pin, or bracelet—there are plenty of items out there to show your appreciation for the amazing feats accomplished by female role models past and present.
No matter which event you choose to participate in, it is easy to get involved in the spirit of Women's History Month and celebrate the accomplishments of countless individuals who have made a lasting impact on our world.
Promote Women's Health and Wellness
Each year, millions of women around the world take part in Women's History Month, an annual celebration of their lives and achievements. On average, women tend to have more health concerns than men, so it is incredibly important to promote their health and wellness during the month-long observance. There are many different ways to celebrate and honor women's history, but one of the most effective means is to focus on women's health and wellness. Here are a few ways to promote women's health and wellness during this special month.
First, make sure that you are doing your part to educate women about their bodies and attend to their own health and well-being needs. This can include teaching them exercises or yoga, speaking to them regularly about their own mental health, or simply guiding them toward healthy lifestyle changes that they may or may not realize are necessary. Additionally, this time should be devoted to celebrating all the incredible and powerful work that women do each and every day.
Second, be sure to organize events and activities focused on promoting women's health and wellness. This could consist of establishing community support groups or hosting a physical activity event that encourages women to get out and exercise together. You could also invite local professionals in the health and wellness field to speak at these events and provide valuable information about how women can stay healthy throughout their lives. Finally, consider organizing fun competitions that focus on healthy living and self-care, such as a nutrition challenge or a fitness competition.
Finally, make sure that you are actively seeking out ways to empower women in both their personal and professional lives. This could involve highlighting inspiring female figures and showcasing the excellent services and products that aim to help women maintain their overall health and well-being. Additionally, you may choose to invest in items like planners or stylish workout gear for women to use and help them with their physical activities. Providing gift certificates for healthier restaurants or stores is a great way to show your appreciation and help them lead happier and healthier life.
At the end of the day, Women's History Month stands to be much more than just a remembrance of the past. It's also a great opportunity to provide meaningful support that directly impacts not only the present, but the future of generations of women to come. Take the time to properly recognize and appreciate the women in your life and make sure that they are aware of all the ways they can take action to promote their health and well-being, too.
Give Away Gently Used Clothing to Women In Need
As part of Women's History Month, many people are finding meaningful ways to celebrate the progress and successes of women. One of those meaningful ways is by giving away gently used clothing to women in need.
This generous act has numerous benefits both for the giver, and of course, the receiver. By donating clothing that you no longer need, you are freeing up space in your closet while simultaneously providing an essential resource to a woman who may be struggling financially or facing difficult circumstances. It's estimated that 1 in 3 Americans struggle with poverty and lack access to quality clothing. Your donation can help to fill this gap and make a difference.
Women's History Month can also be celebrated by giving back to causes that empower and champion women. Donating clothing is one way to do this as it directly benefits women in a material way. This generous act shows the person receiving the clothing that you care about their well-being and have taken the time to show your support.
In fact, research shows that when women have access to appropriate and quality clothing, they are more likely to enter and succeed in the workforce. At a time when it's increasingly difficult for women to get a job and make a living wage, donating clothing has long-term implications for the economic and social mobility of women.
By giving away gently used clothing this Women's History Month, you can help a woman in need while showing your commitment to women's rights and empowerment. It's not only a gift of kindness and mercy but an investment in changing the future of women around the world.
Shop Special Edition Women's History Month Goods
Celebrate Women's History Month with special edition merchandise! In this collection, you will find a range of apparel and accessories that honor the incredible accomplishments of women throughout history. Whether you are looking for a gift for yourself or another, this selection has everything you need to recognize Women's History Month.
Start by browsing our tees and sweatshirts featuring powerful slogans celebrating the contributions of women. With styles ranging from classic crewnecks to trendy crop tops, there is something here for everyone. All garments are made from quality fabrics and printed using eco-friendly ink to ensure comfort and sustainability. Not only will these items show your support for Women's History Month but, you can wear them all year round in remembrance of the inspiring females who have made such vital contributions to society.
With other accessories such as bags, pins, and stickers, you can express your admiration for the heroines all around us in even more ways! Embellish any outfit with our enamel pins and honor female figures whose work you admire. Our tote bags provide ample room for your belongings while making a strong statement at the same time. And lastly, decorate your house with our illustrated stickers featuring inspiring quotes from eminent women.
Enjoy free shipping worldwide when you commemorate Women's History Month with this special edition range. Show your self-expression and appreciation of the women in your life with unique items made especially to commemorate their invaluable achievements. Celebrate Women's History Month today with Shop Special Edition!
Provide Financial Literacy Education to Girls
Financial literacy is an increasingly important skill today, particularly for women. The economic landscape is constantly changing and it is essential that girls learn to prepare themselves as possible for their financial futures. To mark Women's History Month, providing girls with access to financial literacy education is a great way to celebrate the important strides women have achieved in past generations.
This type of education can begin as early as elementary school with basic lessons about budgeting and saving. As girls grow into adolescence, they should learn more complex topics such as investment options, debt management, retirement planning, and many other skills needed to make sound fiscal decisions. It's important to involve boys in the financial literacy learning process too so that both genders understand the real-world implications of financially managing their lives now and in the future.
Unfortunately, not everyone has easy access to this kind of education and those who are from disadvantaged backgrounds often find themselves at a financial disadvantage later in life. This is why it's important to provide girls with the opportunity to gain knowledge and experience on how to handle their finances through organizations like government youth services, community centers, and churches which may offer free or discounted classes.
Of course, financial literacy education is not just limited to classroom instruction. Real world experiences, such as financial literacy games, mentorships, and internships are invaluable tools for giving girls the confidence and know-how when it comes to investing and budgeting. Additionally, libraries often hold financial literacy classes that may be open to teens or unfamiliar with personal finance topics.
Providing girls with financial literacy education is an important gift that we can give them to celebrate Women's History Month. It is a way to foster strong economic well-being by teaching them to use the power of knowledge to create successful financial goals and plans.
Join a Female Empowerment Group
Join a Female Empowerment Group to Celebrate Women's History Month!
Do you want to join a collective of empowered women and be part of something greater? Join a Female Empowerment Group this Women's History Month to celebrate the stories and experiences of remarkable women throughout history. At its core, a female empowerment group is an organization meant to help create an environment of solidarity, leadership, and success for each member.
Through your participation in a Female Empowerment Group, you can connect with like-minded individuals and make a positive impact on the world. Not only do these organizations enable knowledge sharing, but they also open up the possibility for personal growth and development. Group members can share their experiences, provide advice and points of view, collaborate and network on projects, or propose activities that will foster professional, physical, and emotional strength in the network.
While celebrating Women's History Month, the Female Empowerment Group encourages the depiction of powerful women in all corners of society. It is an opportunity to bridge the gap between generations by uniting women from different backgrounds, cultures, ages, and beliefs. Together, we celebrate and learn from our successes, as well as from failures, as we look to continue building towards our individual goals and dreams.
This Women's History Month, consider giving yourself a gift and join a Female Empowerment Group today! Be part of a network devoted to supporting each other to rise up together, surpassing any obstacle or challenge. Remember that the foundation of this union lies in honesty, trust, and respect – beginning with yourself. As "The Great One" Jackie Kennedy said, "Only do what your heart tells you." So don't be afraid to believe in yourself. Go ahead, seize the opportunity, and lift each other up in support of a better tomorrow!
Celebrating Women's History Month is a meaningful way to honor the achievements of women around the world. By gifting items that make a difference to organizations and people in need, you can help ensure that women of all ages are celebrated, respected, and supported. From purchasing gifts that create sustainable economic development opportunities for female entrepreneurs to donating funds to anti-domestic violence shelters, the small actions we take during Women's History Month can have large impacts on advancing gender equality and creating a brighter future for generations to come.
See also: Top 10 most beautiful beaches in the world that you should visit at least once in your lifetime
SUBSCRIBE TO OUR NEWSLETTERS
Subscribe our newsletter for latest news, questions. Let's stay updated!